Looking for a solution to the following issues?
Need to optimize system operation
Need to run 24/7 system operation but lack of human resources
Need to reduce costs for system operation
Need to improve the current infrastructure and existing issues on system operation
Need to achieve labor-savings while utilizing existing systems


Service overview
With System Operation Consulting, our experienced engineers conduct analysis/evaluation on system operation work, and propose improvements to make system operation optimized and more efficient, according to the requirements and budget of the customer. We first conduct an on-site visit and hearing to clarify the current issues regarding system operation, which enables us to identify the measures to take and enables systematic investment.
Service features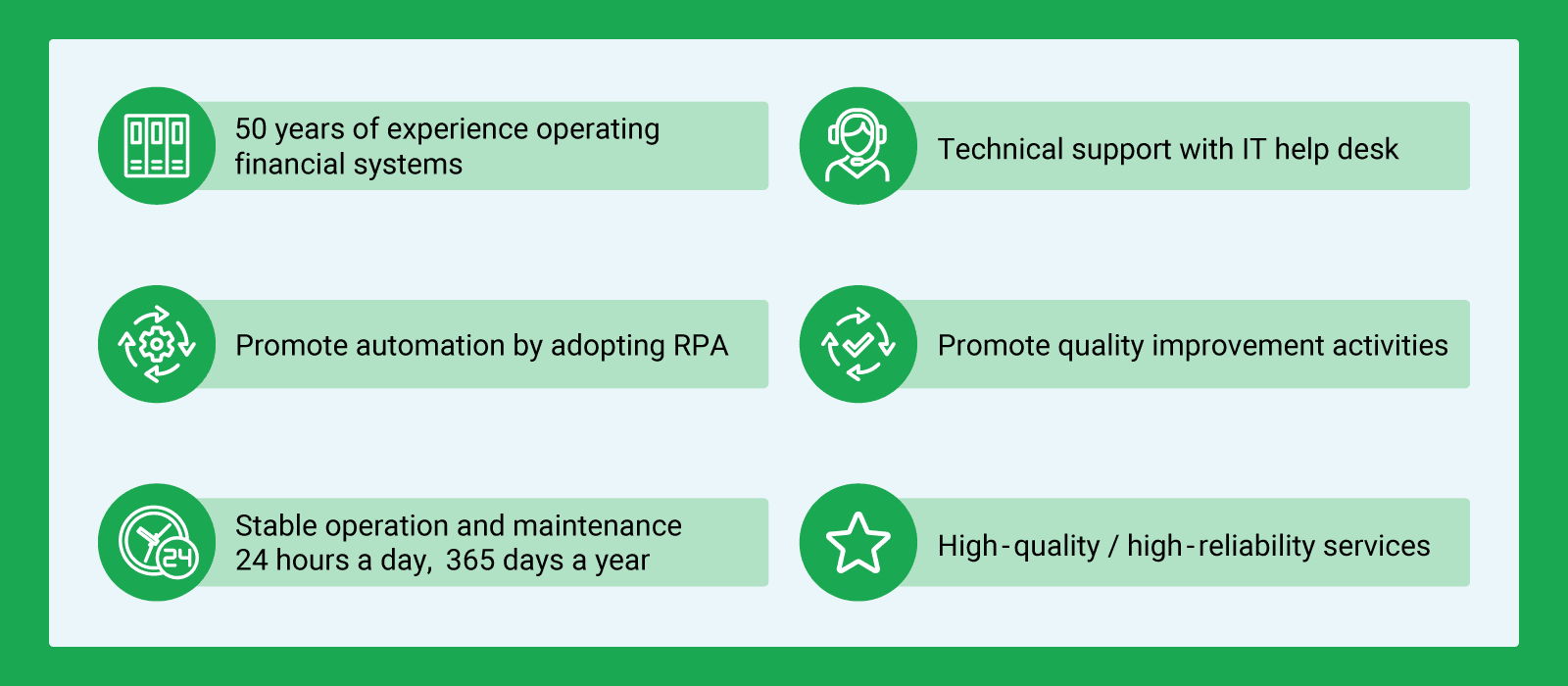 Multifaceted analysis/evaluation of the entire system
We analyze and evaluate general system operation, from applications to infrastructure. This helps identify issues with operation work, the status of operation, and operation costs.
Proposing optimal system operation
We propose improvement measures for optimizing the customer system and system operation improvements.
Proposing routine work/maintenance
We also propose routine work and maintenance work to ensure that the system can fulfill its role.
50 years of experience in operating financial systems
We are a professional organization with more than 50 years of experience providing stable system operation management, with a focus on social infrastructure companies such as major financial institutions.
Proposing work flow automation with RPA
We propose the adoption of RPA/AI/OT to make existing environments even more efficient.
List of provided services
Operation consulting service
Operation design service
Operation work improvement service
Proposal assistance service
Adoption project management service
Cloud service startup assistance service
Case study
Company size
Large
Industry
Finance
Service name
System Operation Consulting
Request
We want a proposal on the measures required to achieve the operation, management, and maintenance of a complete 24/7 financial system.
Description
Based on government regulations, we proposed to build a new structure consisting of 3 teams with day shift / night shift / backup team as a baseline to run 24/7 operation management and maintenance. We closely worked with the customer from a hypothesis verification to on-site hearing to set up the system of 24/7 operation management and maintenance. With the minimum basic IT skillset of Operators, we focused on the framework educating their mindset, knowledge and function of financial institution, and conducting regular staff education, training and study session to sustain the high quality of service.
We formulated an evaluation and feedback system for Operators to achieve 24/7 operation management and maintenance while engaging in daily operation work based on the manuals for further improvement.

Major benefits
By bringing 24/7 work style in 2 shifts (day/night) to a next level, we managed to cultivate staffs' mindset with a high level of motivation, and achieved to generate a good synergy between individual growing further and customer fulfilling their expectations.