Looking for a solution to the following issues?
Want to setup IT equipment/devices but it is troublesome
Want to speed up/optimize a network environment
Want to install the server and add safe and secure backup function
Want to create a remote work environment safely and securely
Struggling to solve computer/server/network issues
Considering cloud backup but unsure where to start
Service overview
Problems often occur with the various IT devices used in office environments during both installation and operation. Ensuring a robust office IT infrastructure can minimize such trouble.
Office IT Support is a service to solve various concerns and requirements related to IT in the office. Our highly experienced engineer will visit the site to conduct a hearing to identify the issues with the current infrastructure environment. Thereafter, we will thoroughly discuss with the customer about the best possible solutions to move forward to implementation.
We ensure to manage your office IT environment so that you can focus on your core business.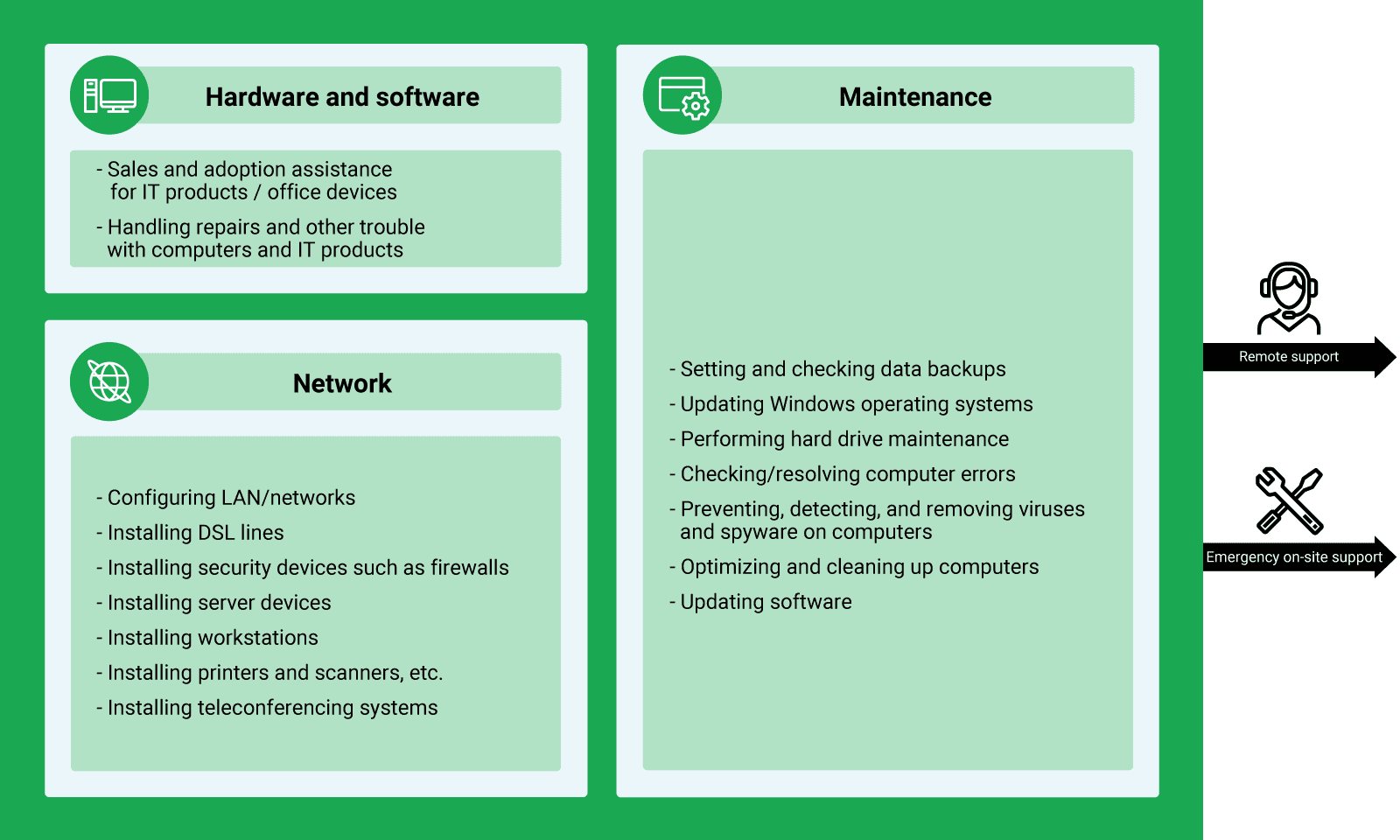 Service features
Hardware and software
Sale and installation / setup of IT products (hardware), office devices, software
Network
Handle a wide range of support, from LAN setup to the installation of security devices and teleconferencing systems.
IT helpdesk
Handle troubleshooting on-site / remotely
Maintenance
Data backup, OS updates, on-site maintenance, and repairs, etc.
Support for the ASEAN region
We can provide support not only in Singapore but also other locations such as Kuala Lumpur (in Malaysia) and Yangon (in Myanmar). Feel free to ask us about the possibilities.
List of provided services
Hardware and software
Sale and installation of IT products / office related devices
Repair and troubleshooting for PC and IT products



Network
Configuring LAN/networks
Installing DSL lines
Installing security devices such as firewalls
Installing server devices
Installing workstations
Installing printers and scanners, etc.
Installing teleconferencing systems



Maintenance
Setting and checking data backups
Updating Windows OS
Performing hard drive maintenance
Checking/resolving PC errors
Preventing, detecting, and removing viruses and spyware on PC
Optimization and clean-up of PC
Software update



IT helpdesk
Remote / on-site support (adhoc)
Case study
Company size
Medium to small companies (around 30 employees)
Industry
office IT support

Service name
Installation/setup of devices for a better network infrastructure.

Request
Want to setup the servers and network including data backups for enhancing business operation. Currently using NAS only.

Description
Install firewalls and windows servers (including AD) for the IT admin to manage office network and users easily. Setup a hybrid backup system, cloud and external remote backup

Before
Everything on-premises, including the NAS and backups.
After
Installed firewalls and servers to setup Active Directory (AD) for easier user management.
Setup two-layer backups for enhancement.

Major benefits
Setting up a better network infrastructure with AD for IT administrators to manage network and users collectively. Enhancing backup system with dual-layer of cloud and external remote for further BCP measures.